Description
Included in the Edge 800 Bundle - Full 1:50K OS GB Discoverer UK maps worth £199.99, saving you £150
One year official Garmin guarantee for added peace of mind
Make the most of every ride with Edge® 800 touchscreen GPS bike computer for training, touring and on the trail. Providing navigation and performance monitoring, Edge 800 is ideal for touring, commuting, competitive cycling and mountain biking. It has a built-in basemap and tracks your distance, speed, location and ascent/descent. Use it with an ANT+™ heart rate monitor1, speed/cadence sensor1 or compatible power meter2for a finely tuned analysis of your ride. Please click the In The Box tab to see an explanation of the bundles available.
At Your Fingertips
Edge 800's touchscreen display is rugged enough to stand up to the elements, yet sensitive enough to respond to the tap of your gloved hand. Switch training pages or pan and zoom the map with just a tap. The bright, sunlight-readable colour display is easy to view in all lighting conditions. Just don't let its good looks fool you — Edge 800 is waterproof to IPX7 standards and can withstand hard knocks and scrapes it might endure in mountain biking environments.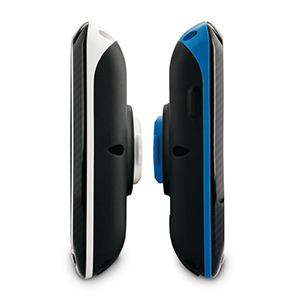 The aerodynamic Edge 800 has a carbon fibre look with either blue or white accents and attaches to the stem or handlebar of your bike with the low-profile mount. A quarter-turn mount design holds unit securely and lets you easily swap it between bikes using removable, reusable bands.
Know Where To Go
Whether your bike is a means of transportation or escape, having maps at your fingertips makes every ride easier, more clued-up and more fun. Edge 800 comes with a built-in basemap that shows major roads and cities, plus it's compatible with our range of microSD™ cards to add your choice of road or Discoverer mapping1. Select your destination and Edge 800 provides turn-by-turn navigation prompts on the screen to guide your ride there.
Edge 800 is available with Garmin GB Discoverer™ 1:50,000 scale Ordnance Survey mapping for the whole of Britain. With contours, elevations, summits, paths, routable roads and more, it's ideal for biking anywhere in Britain on any terrain. Or choose optional plug-in 1:25k scale GB Discoverer maps for OS Explorer Map detail of your favourite National Parks (19 titles) or National Trail (17 titles).
Other Edge 800 bundles available to suit your style of riding include mapping options for navigation on and off-road and performance options with heart rate and speed/cadence sensors.
Edge 800 can also guide you along routes recorded by other cyclists. Explore our Garmin Connect™ site and choose from millions of rides uploaded by other users. Any activities you upload to your Edge 800 are stored as courses. You can follow the course with navigation prompts or, for a little competition, race it and try to beat previously set goals. Don't waste precious time planning your adventure when you're already outside. Our freeBaseCamp™ software lets you create routes on your computer and then transfer to your Edge 800 in incredible detail with 2D, 3D and elevation views.
Edge 800 records your every move with a high-sensitivity GPS receiver that stays locked on to a signal, even under tree cover. The receiver features HotFix® satellite prediction to calculate your position faster, plus it has automatic time zone adjustment ideal for a European cycle tour holiday.
Data, Any Way You Want It
Edge 800 tracks a variety of data from your ride and lets you customise up to five training pages so you can see as much or as little ride information as you want. The barometric altimeter provides extra-precise climb and descent data and records temperature changes.
If you're a performance cyclist, you can pair Edge 800 with a third-party ANT+ enabled power meter to display your power output in watts as you ride. This valuable data shows you how hard you're working, regardless of conditions affecting your ride, so you can train smarter. Some versions of Edge 800 also come with a speed/cadence sensor and heart rate monitor.
Training Tools
Training features include detailed workout planning, Auto Pause®, Auto Lap® and Courses, which helps you compare successive rides over the same route.
Analyse Your Ride
You logged the miles, now it's time to review, replay and share your ride. Just upload your data to Garmin Connect™, our website for free data analysis and sharing. You can upload from your PC or Mac using the included USB cable. At Garmin Connect™, you can see the route you've ridden on a map, view a summary of your ride, create goals, share rides and data with others and much more.
Technical Rating
Physical & Performance:

Unit dimensions, WxHxD
2.0 x 3.7 x 1.0 (5.1 x 9.3 x 2.5 cm)
Display size, WxH
1.4 x 2.2 (3.6 x 5.5 cm); 2.6 diag (6.6 cm)
Display resolution, WxH
160 x 240 pixels, touchscreen
Touchscreen
Yes
Weight
3.5 oz (98.0 g)
Battery
rechargeable lithium-ion
Battery life
15 hours, typical
Water resistant
Yes (IPX7)
GPS-enabled
Yes
High-sensitivity receiver
Yes

Maps & Memory:

Basemap
Yes
Ability to add maps
Yes
Accepts data cards
microSD™ card (some versions include a City Navigator microSD card)
History
up to 180 hours
Waypoints/favorites/locations
200
Routes
Limited by memory space available

Features & Benefits:

Heart rate monitor
Yes (Some versions)
Bike speed/cadence sensor
Yes (Some versions)
Foot pod
No
Automatic sync (automatically transfers data to your computer)
No
Garmin Connect™ compatible (online community where you analyze, categorize and share data)
Yes
Virtual Partner® (train against a digital person)
No
Virtual Racer™ (compete against other activities)
No
Courses (compete against previous activities)
Yes
Auto Pause® (pauses and resumes timer based on speed)
Yes
Auto Lap® (automatically starts a new lap)
Yes
Auto Scroll (cycles through data pages during workout)
Yes
Multi-sport (changes sport mode with a press of a button)
No
Advanced workouts (create custom, goal-oriented workouts)
Yes
Pace alert (triggers alarm if you vary from preset pace)
Yes
Time/distance alert (triggers alarm when you reach goal)
Yes
Vibration alert: (choose between alert tones and/or vibration alert)
No
Interval training (set up exercise and rest intervals)
Yes
Heart rate-based calorie computation
Yes
Training Effect (measures impact of an activity on your aerobic fitness)
No
Customizable screen(s)
Yes
Barometric altimeter
Yes
Unit-to-unit transfer (shares data wirelessly with similar units)
No
Power meter compatible (displays power data from compatible 3rd party ANT+™-enabled power meters)
Yes (records data approx. 1 per second)
Temperature (displays and records temperature while you ride)
Yes
Sport watch
No
Additional

Operating temperature: -20°C to +60°C

This USB mass storage device is compatible with Windows® XP or newer and Mac® OS X 10.4 or later.
Additional Information
SKU

GARMINPGA108

Quick Find Code

9617